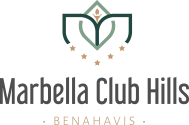 ARTICLE #9 – 11 AUGUST, 2017
"MARBELLA – LIVING IN STYLE AND DINING IN STYLE"
The unbelievable Dining experience on the Costa del Sol. Marbella, home of Michelin Stars.
There's a good reason why Marbella Club Hills is located on the exclusive hill of Benahavís. It's simply a great place to live. We're not just referring to the sunshine and endless golf. The food is fantastic here as well.
Spain is well known for its sophisticated taste and chic restaurants. In fact, according to Forbes, 7 out of the 50 world's top restaurants come from Spain. For Spaniards, life revolves around spending time with their family and friends. What better way of doing it than dining out with loved ones!
Costa del Sol has a growing number of haute cuisine lovers and Marbella now has the highest concentration of Michelin Star restaurants in Malaga.
The luxury villas and apartments that Marbella Club Hills offers go hand in hand with the sophisticated lifestyle in Marbella. The Costa del Sol cuisine and the Marbella Club Hills architecture have a lot in common. It is the essence of the traditional combined with a cutting edge style.
Marbella brings together some of the greatest chefs and avant-garde artists of the kitchen. Chef Dani Garcia is amongst these innovators and is well known for channelling his creativity through food-making. He is one of the best Spanish chefs and the one that has had the most international exposure.
What often makes the dining experience even more special is the interior décor of restaurants as well as the amazing views.
Diego del Rio Michelin starred chef's restaurant has one of the most breathtaking views. The restaurant is set in one of the most magnificent locations surrounded by a beautiful lake and an impressive golf course. Costa del Sol, being the sunniest place in Spain allows night dining in which lighting complements the food in delighting the senses.
If you are an art and design aficionado and would like to see some of the most impressive contemporary art pieces, come to Marbella in the summer and enjoy the superb atmosphere, the stunning art collections and meet their creators.