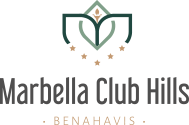 ARTICLE #37 – 29 APRIL, 2018
MARBELLA CLUB HILLS' EQUESTRIAN LIFESTYLE
Private gated equestrian and golf lifestyle communities are an interesting trend popping up in and around Marbella, especially in the Benahavís Hills area; however, for many people, equestrian may not be a term instantly recognized unless one is part of the lifestyle.
For years, humans have endured horses and their nostalgic presence. Horses bring a sense of peacefulness and serene feeling to the atmosphere.
The pleasure of seeing horses run and gaze the pastures come with an appreciation for life. It has a certain enigma associated with it.
"The kilometres of bridle trails, the natural lakes and mountains, and the beautiful green space resonate with us here at Marbella Club Hills. What a great place to create a home in today's world."
The concept is fabulous for the 21st century where safety and amenities are major considerations for anyone selecting a new home site.
As you turn towards the private gated community where Marbella Club Hills future home sites await development, there is a vision that sweeps across your mind: a panorama of horses, its local equestrian centre, and the perfectly manicured golf courses that are laid out all around. This makes a popular holiday or retirement destination for those who love beautiful weather and landscapes.
Imagine the joy and convenience of having stables and golf courses almost in your own garden. Now, of course, this convenience of having greenery and great landscapes require plenty of open space. It is estimated that the land of the whole project equals the size of 18 football pitches. This is 158,000 sq m of greenery and nature.
The Marbella Club Golf and Equestrian Centre community offers amenities with luxurious and well-kept landscapes, trails and activities, plus many amenities such as stall barns, an arena, a jumping ring, and all-round training facility.
Therefore, horse enthusiasts who compete or just ride leisurely are surrounded by everything equine. Many people share the same love of horses and there are many joint activities plus competitions and events to participate in.
Retirees love this kind of setting, where they are not alone, they have the support of a community and the wide open space of an equestrian centre and golf courses.
The phase 1 construction of Marbella Club Hills' homes include 3 & 4 bedrooms villa apartments with terraces ranging from 50 sq. m. to 145 sq.m.
Contact us the soonest to see which units are still available.
Only 6 months into the construction, and 40% of the project has already been sold.
If you are looking for a lifestyle where you can safely enjoy nature and still be close enough to the city centre of Marbella and the coast, this is the property for you.
Also, an additional independent villa is being built at the highest point of Marbella Club Hills with a built-up area of over 500 sq. m. and a garden of around 1,200 sq. m.
Perhaps this scenario is the right fit for you?!
Find out other lifestyle ideas with Marbella Club Hills and also, have a look at what Financial Times wrote about Marbella Club Hills.