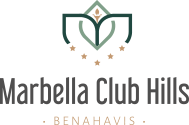 ARTICLE #42 – 10 JUNE, 2018
UPDATE ON THE CONSTRUCTION PROGRESS – PHASE II
For those of you who couldn't be with us on May 31st, here is a short summary of what was talked about.
"I am Nabil Sawabini and I represent MENA Capital Development company, the developer of Marbella Club Hills.
I would like to welcome you all, along with our partners – Marbella Club, our architects – Villarroel Torrico, contractors – SANJOSE and Nebralejo for the infrastructure works, as well as our lawyers Cruz-Conde and our interior designer for the show flat – Pedro Peña. All of whom are well represented with us today.
As you will see for yourselves later this morning, considerable progress has been made on phase 1 of the project, which consist of 55 villa apartments with 3 & 4 bedrooms and a state of the art Club House that includes a gym, spa, indoor and outdoor swimming pools for adults and kids, a kids playground and a cafeteria. The delivery of phase 1 is targeted in stages starting mid-2019.
We are now planning to start this summer sale in phase 2, which will have a variety of residences, consisting of 55 villa apartments with 2 & 3 bedrooms and 16 semi-detached villas with 4 bedrooms, along with a private swimming pool for each. Phase 2 will also include diverse sports facilities including a large gym, 2 tennis and 2 pedal-tennis courts, a multi-purpose court for basketball, volleyball, handball and futsal, as well as a playground for kids.
It is important to mention that the buyers in Marbella Club Hills are entitled to a membership in the Marbella Club Golf and have access to Marbella Club and Puente Romano Hotels facilities and outlets, subject to availability."
See images from our breakfast event as well as images showing the progress of our construction.