For many Christmas is one of the most important moments of the year. No wonder why – it's unique, magical, full of joy and generosity.
It brings us closer and it encourages us to reflect. This is true and universal for many countries.
We set out on a journey across the world to discover what Christmas holidays look like in other countries.
In the Netherlands, Santa Claus arrives on a steamboat from Spain. In Peru, they begin Christmas Eve at midnight. In Lebanon, there are no holidays without a crib, and in Germany – without a potato salad and a white sausage.
Our favourite Christmas traditions around the world are wonderful – sometimes wonderfully strange – and are guaranteed to put you in the festive spirit. 
Christmas in Sweden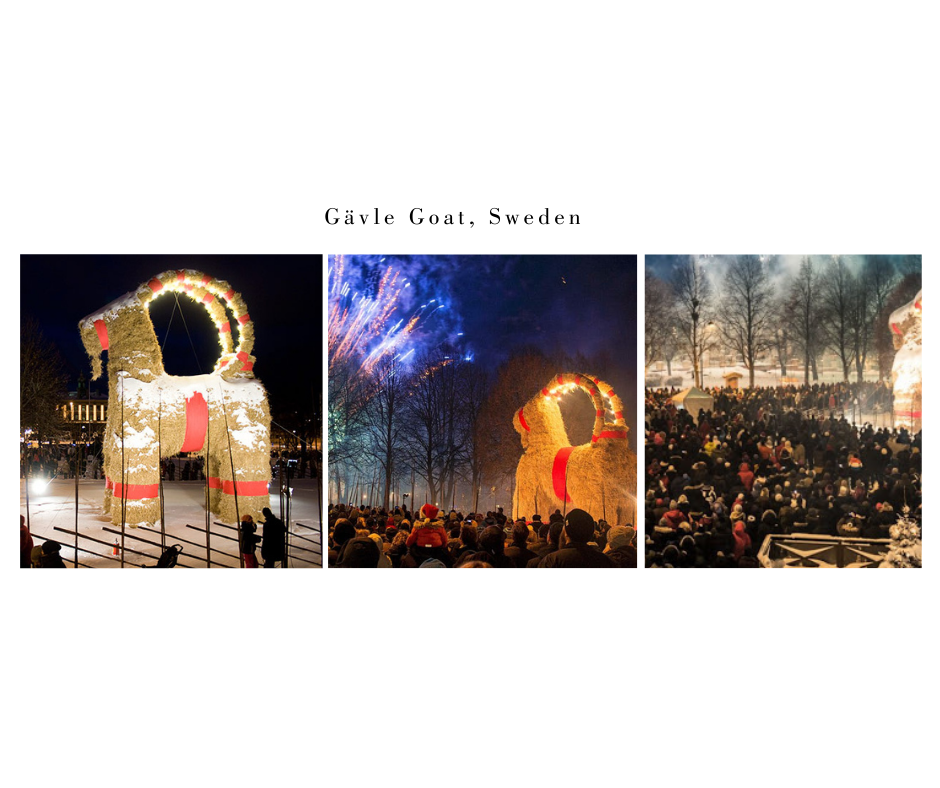 Since 1966, a 13-metre-tall Yule Goat has been built in the centre of Gävle's Castle Square for the Advent, but this Swedish Christmas tradition has unwittingly led to another "tradition" of sorts – people trying to burn it down. Since 1966 the Goat has been successfully burned down 29 times – the most recent destruction was in 2016.
Christmas in Japan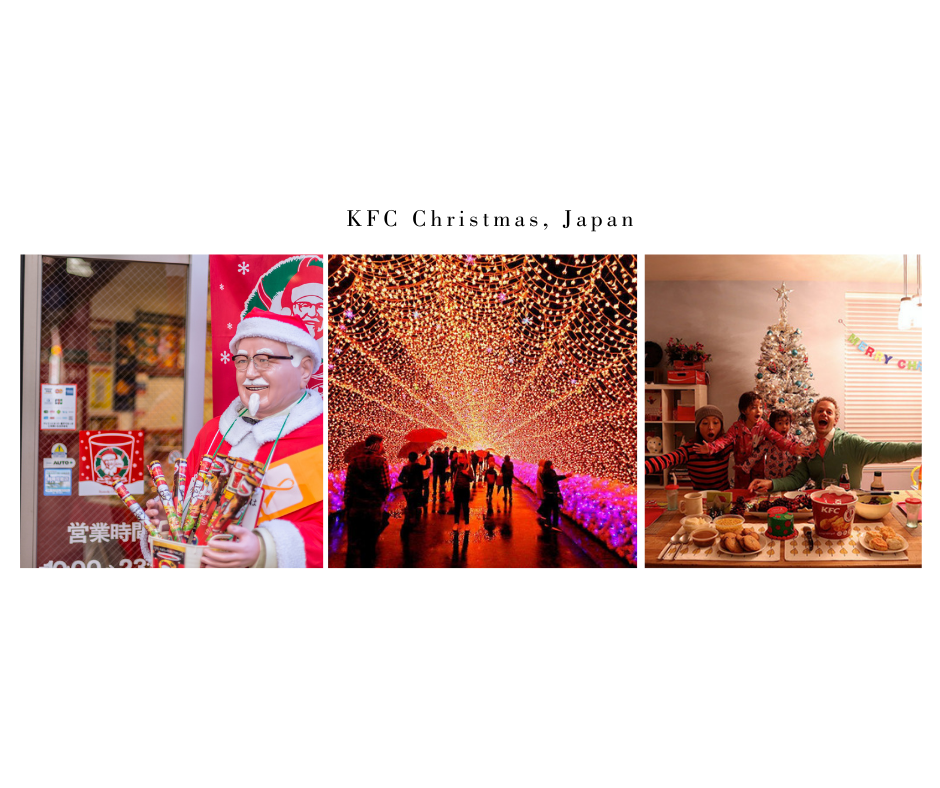 Christmas has never been a big deal in Japan. Aside from a few small, secular traditions such as gift-giving and light displays, Christmas remains largely a novelty in the country. However, a new, quirky "tradition" has emerged in recent years – a Christmas Day feast of the Colonel's very own Kentucky Fried Chicken.
The festive menu will soon be advertised on th KFC Japan website and, even if you don't understand Japanese, the pictures sure will look delicious with everything from a Christmas-themed standard bucket to a premium roast-bird feast.
Christmas in Norway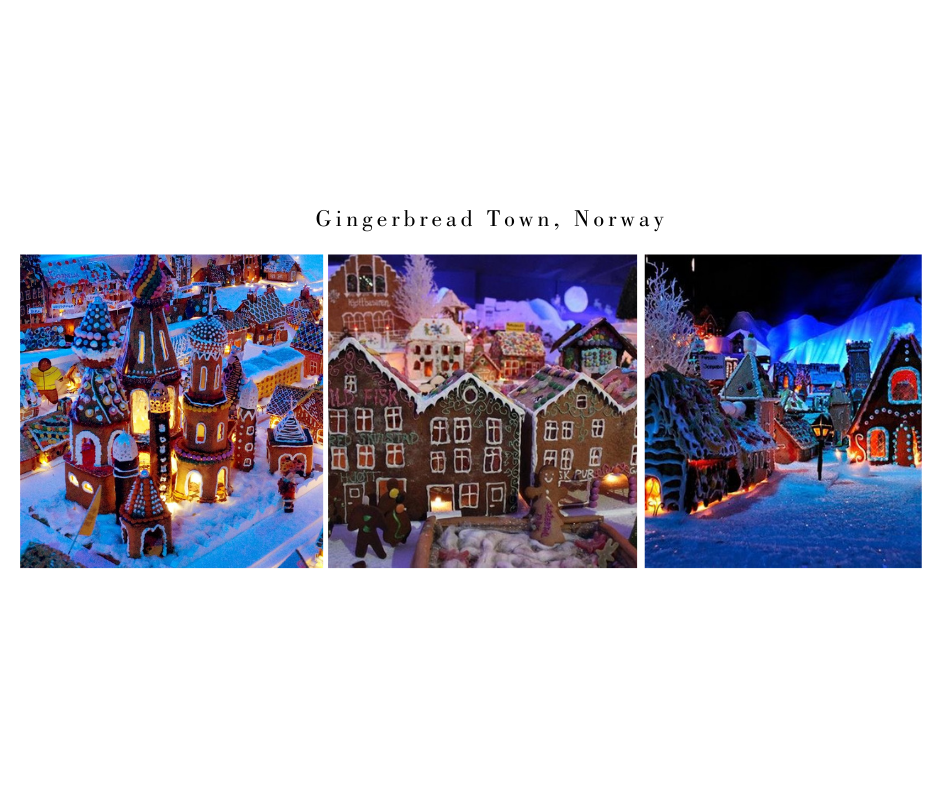 In Norway, Christmas without gingerbread cookies is hard to imagine. We call them "pepperkaker" – literally pepper cookies – even though they rarely contain any pepper. Usually, they come in the form of women and men, angels and reindeer, hearts and bells – and even houses and castles. Placed, for instance, in the world's largest gingerbread city.
Every year since 1991, kindergarteners, schoolchildren, local businesses, and thousands of other volunteers have participated in the construction of Pepperkakebyen in Bergen. Here, you'll find everything from tiny homes to local landmarks, trains, cars, boats and international signature buildings made of gingerbread cookies.
Christmas in Canada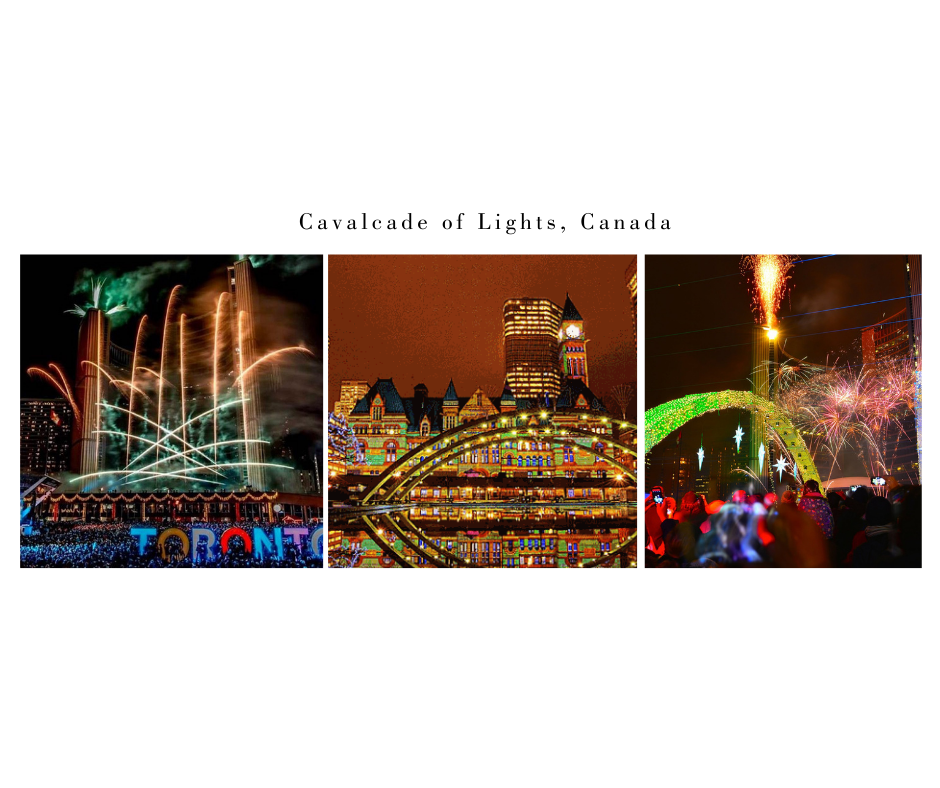 In cold, wonderful Toronto the annual Cavalcade of Lights marks the official start to the holiday season. The first Cavalcade took place in 1967 to show off Toronto's newly constructed City Hall and Nathan Phillips Square. The Square and Christmas tree are illuminated by more than 300,000 energy-efficient LED lights that shine from dusk until 11 pm until the New Year. On top of that, you'll get to witness spectacular fireworks shows and engage in some outdoor ice skating.
Krampus Festival in Austria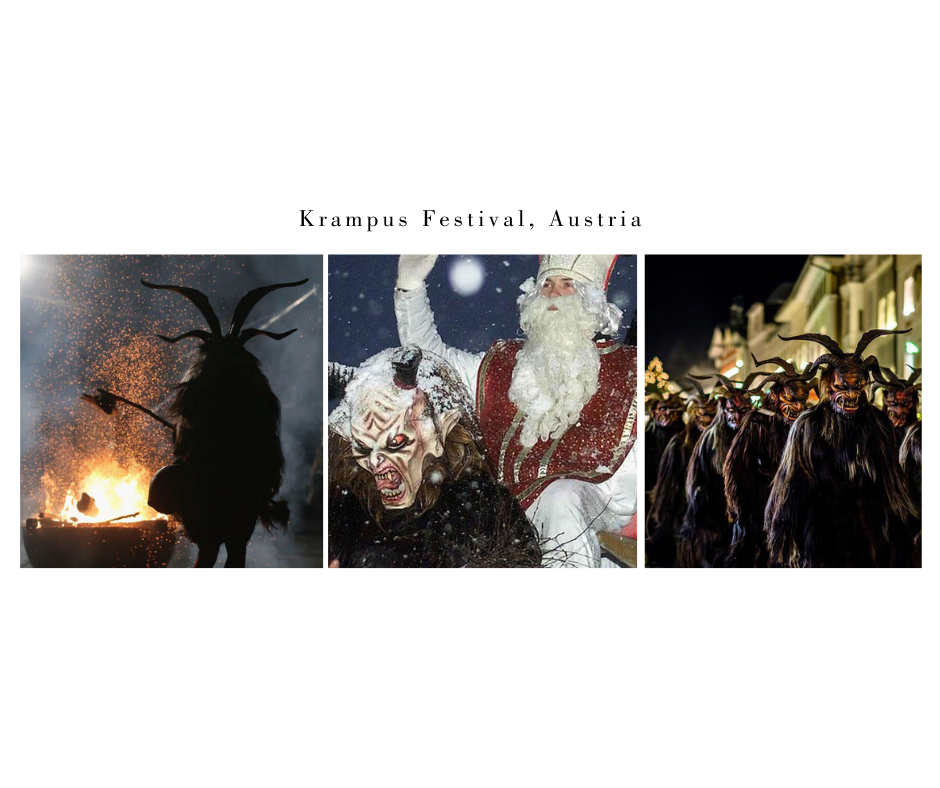 A beast-like demon creature that roams city streets frightening kids and punishing the bad ones is Krampus, the St. Nicholas' evil accomplice. In Austrian tradition, St. Nicholas rewards good little boys and girls, while Krampus is said to capture the naughtiest children and whisk them away in his sack. In the first week of December, young men dress up as the Krampus (especially on the eve of St. Nicholas Day) frightening children with clattering chains and bells.
The Yule Lads in Iceland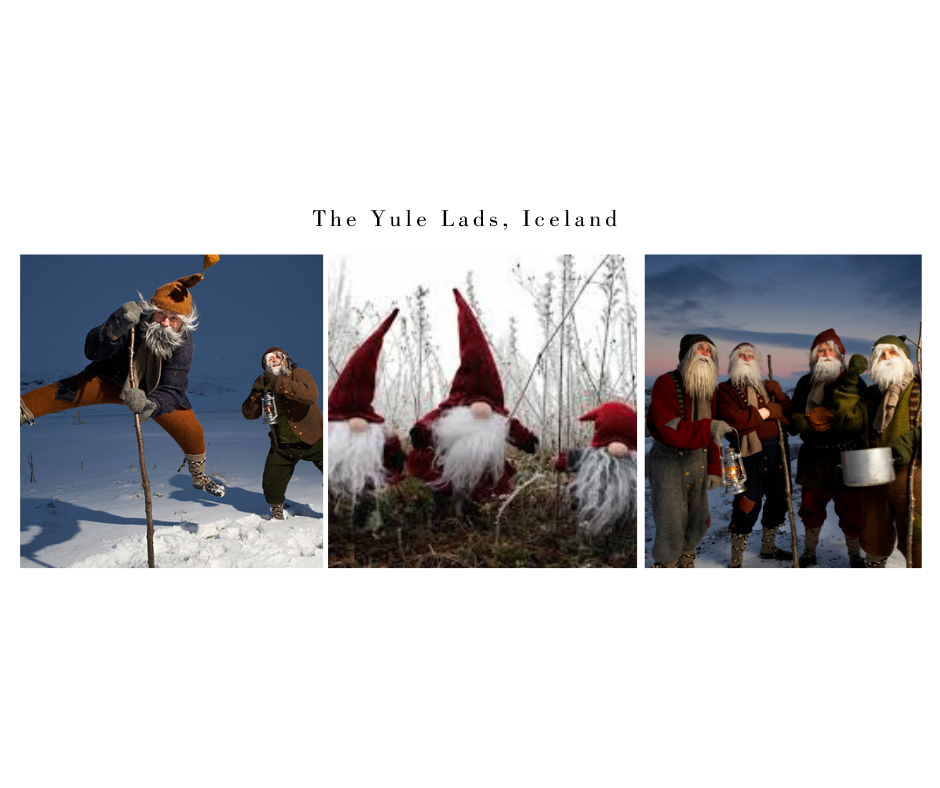 In the 13 days leading up to Christmas, 13 tricksy troll-like characters come out to play in Iceland. The Yule Lads (jólasveinarnir or jólasveinar in Icelandic) visit the children across the country over the 13 nights leading up to Christmas. For each night of Yuletide, children place their best shoes by the window and a different Yule Lad visits leaving gifts for good children and rotting potatoes for the naughty ones. They're dressed up in traditional Icelandic costume and they're quite mischievous.
The Giant Lanthern Festival in the Phillipines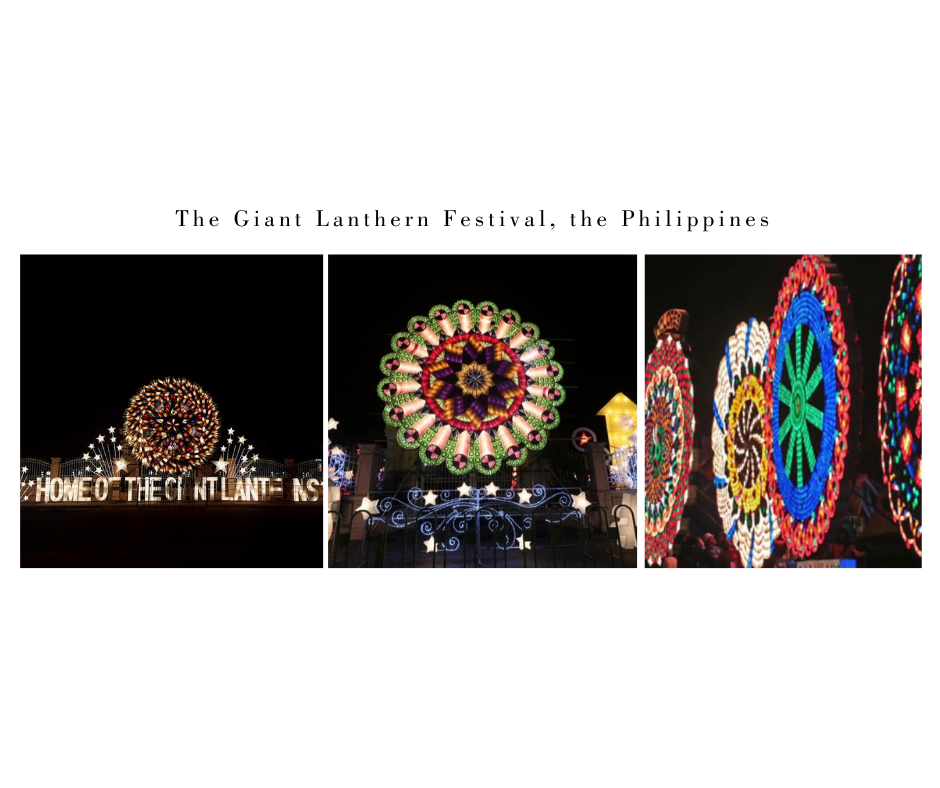 The Giant Lanthern Festival (Ligligan Parul Sampernandu) is held each year on the Saturday before Christmas Eve in the city of San Fernando – the "Christmas Capital of the Philippines." The festival attracts spectators from all over the country and across the globe. Eleven barangays (villages) take part in the festival and competition is fierce as everyone pitches in trying to build the most elaborate lantern. Originally, the lanterns were simple creations around half a metre in diameter, made from 'papel de japon' (Japanese origami paper) and lit by candle. Today, the lanterns are made from a variety of materials and have grown to around six metres in size. They are illuminated by electric bulbs that sparkle in a kaleidoscope of patterns.