Bottle green interiors. Elegance, mystery and luxury
In the past, dark and elegant green dominated palaces and luxurious Victorian mansions. This somewhat mysterious colour in combination with gold, crystal chandeliers and fine fabrics created an atmosphere of unlimited splendour and symbolised a prosperous life. Today, bottle green has made a comeback.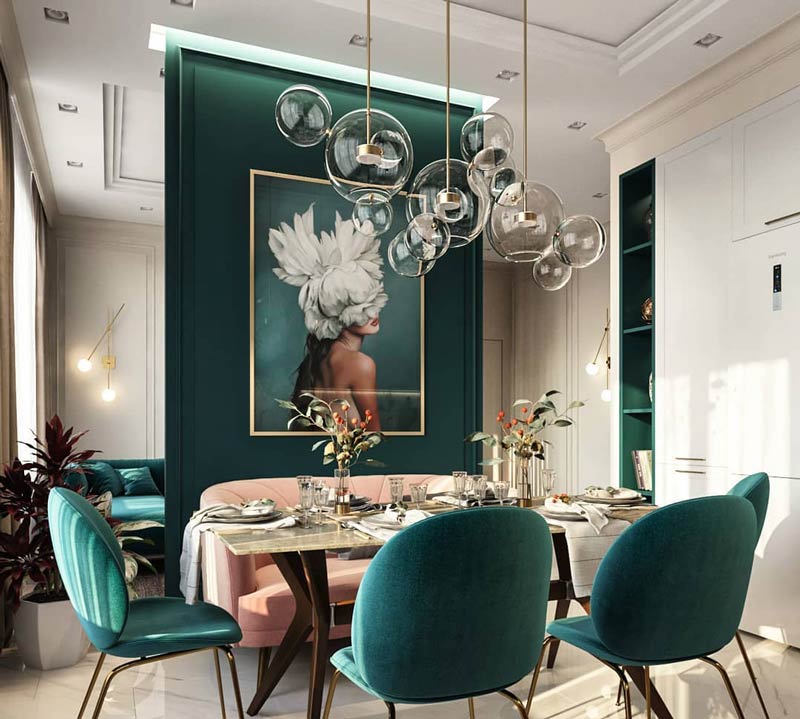 Bottle green – what colour is it?
Dark green, commonly known as bottle green, is a pigment-saturated, mature and expressive colour from the cold family. Its elegance is built up by blue, cool and darker tones. The complementary colour for bottle green is dark purple – a royal colour, which is probably why bottle green is perceived as a distinguished and classy colour. No wonder that bottle green has dethroned such competitors as navy blue and black, not only in interiors.
What mood does bottle green set at home?
Bottle green is probably the noblest of the green shades. Although it seems difficult to arrange and some people are afraid to use it at home, it has an extraordinary impact on our well-being. Green is our favourite colour – it's friendly, because we interact with it constantly in nature, and although it is very often chosen by people with a calm and moderate nature, it is also increasingly popular among those who are active on a daily basis. It's also for those who like the change and who like original interior solutions.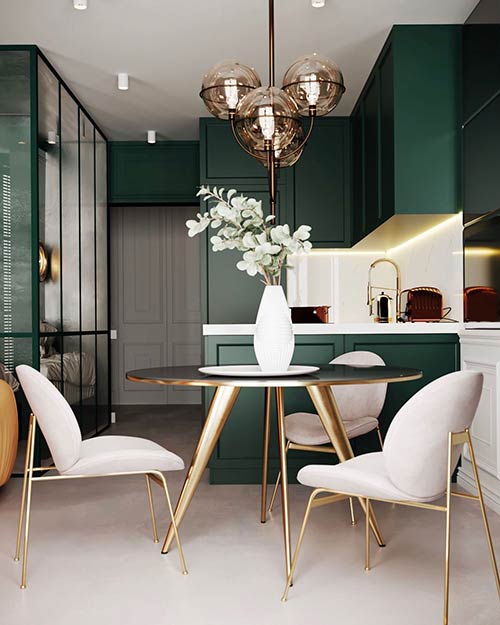 In which interiors will bottle green work?
Green not only soothes the nerves, relaxes and encourages relaxation, but also has a stimulating effect on us. It is considered a symbol of life and vitality. It stimulates our creativity, drives us to action and inspires us. That is why it is recommended for the bedroom or library – interiors where we regenerate our strength and rest. It is also perfect for those interiors where we actively work, e.g. in a home office or kitchen.
As far as styles are concerned, bottle green fits perfectly not only into boudoir and glamour interiors, but also post-industrial, vintage, raw in design, inspired by nature and exotics, and as an addition, to that modern – minimalist or Scandinavian. It can therefore be considered a universal colour with a wide range of applications.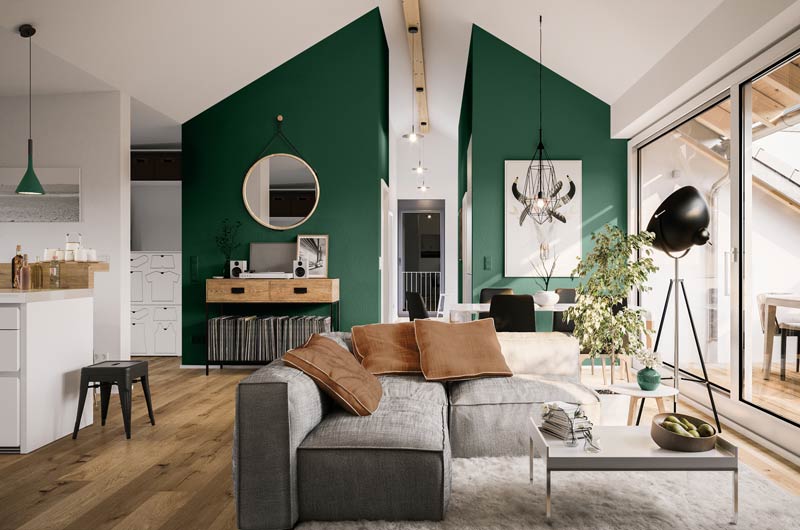 How to use bottle green in interiors?
It is worth remembering that despite its warmth and cosiness, bottle green belongs to the group of cool colours. In practice, it means that like all cool colours, it has optical properties of enlarging interiors. This does not mean, however, that it can be used without restraint, because it is quite a dark colour, which used in excess can give the interior a gloomy atmosphere. Here are some suggestions on how to skilfully use bottle green in interiors:
paint the walls green – one or many;
place green furniture, preferably with velvet upholstery;
Decorate the interior with green accessories;
hang a green mirror – it's a beautiful and unusual decoration.
Bottle green on the walls
The easiest solution is, of course, to paint the walls green. If the room is large and well lit, you can go wild and decide to paint more than one wall.
However, to avoid too much darkening of the interior, paint only one or two walls green. The remaining walls can be painted in white, light grey or ecru – as a contrast. The dark surface should be additionally illuminated with a mirror, and here a mirror in a golden frame will be the best – this metallic colour goes perfectly with green.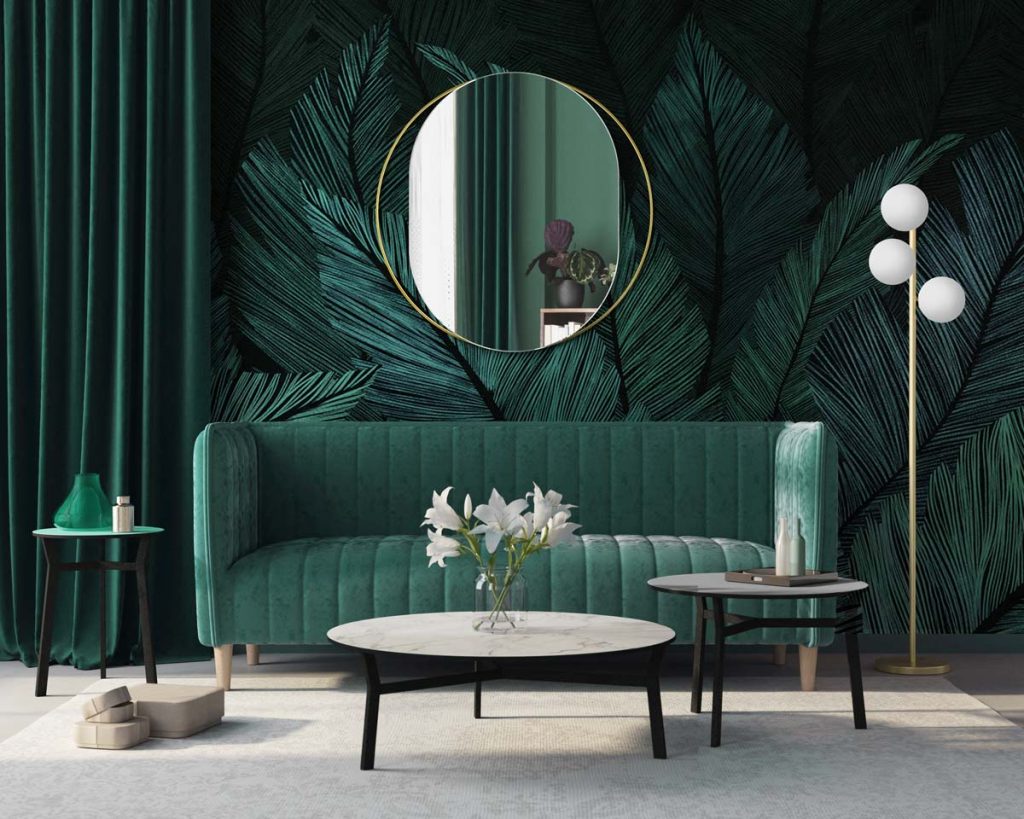 Intense green is impressive not only in the form of a uniform painted surface. Instead of paint, you can use wallpaper in an art déco, tropical or floral style. Patterns such as banana leaves, palm trees or the very striking monstera are ideal.
Relax in the colour of hope: green furniture
Those who prefer to remain with the classic white colour of the walls, may introduce bottle green into the interior, using upholstered furniture in this colour. A strong accent in the living room will be a green sofa, a stylish chaise longue, an armchair or a pouffe. Their finishing is a matter of our taste – upholstered furniture in bottle green will look stylish with gold, black or steel legs. To emphasise the depth of the colour, it is worth choosing upholstery made of a more noble fabric – velvet, velour or velvet. These fabrics reflect light and naturally make dark green more vivid.An interesting solution is also to place another piece of furniture in bottle green in the living room, e.g. a chest of drawers, coffee table or a bar. Already such a single accent is enough to give the interior a unique character.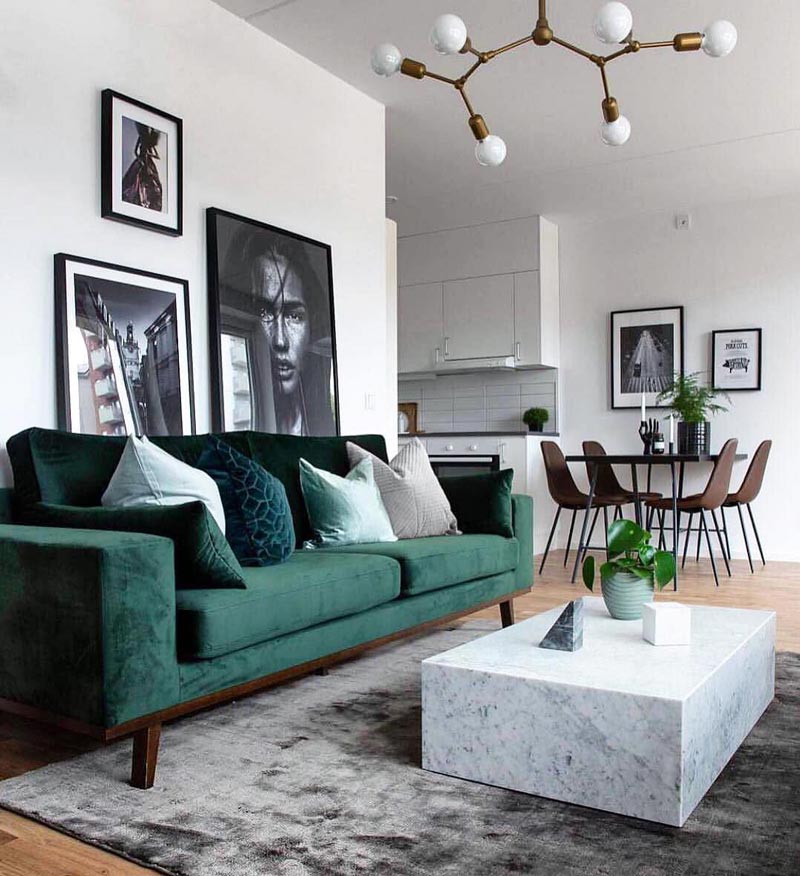 Adding bottle green accessories to your living room – a simple way to create a wow effect!
They say that the devil is in the details and it is thanks to them that we can change the character of the interior. Bottle green accessories will easily change a boring living room or bedroom. All you need is a green lampshade, a carpet, a velvet curtain in this colour or decorative ropes with strings. Bottle green accessories will easily change a boring living room or bedroom. All you need is a green lampshade, a carpet, a velvet curtain in this colour or decorative ropes with strings.
Green in the bedroom
Bottle green is a perfect colour also for a bedroom – it promotes rest and regeneration of forces. Depending on how you arrange it, it can look very elegant and luxurious or natural and cosy, and there are many ways to do it. You can paint the walls green, cover them with green wallpaper or simply decorate them with green furniture and accessories.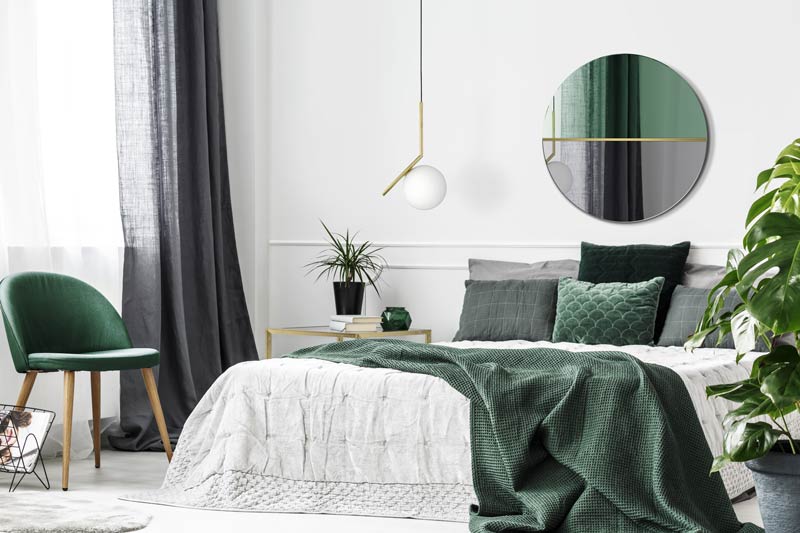 Bottle green in the bathroom
Bottle green can also be found successfully in the bathroom. If you are determined to make a real metamorphosis of the interior, you can use wall tiles, floor tiles or wall panels in the colour of bottle green in your bathroom. An interesting solution is to use this colour, for example in the shower area, on one of the walls. When using green tiles on the entire bathroom wall, remember to brighten up the room with contrasting accents or appropriate lighting.
Bottle green in the bathroom also works well in the form of accessories and details. Ceramic elements, towels, paintings or rugs are the easiest ways to metamorphose the interior. Green accents skilfully placed in the bathroom will add character to it, especially when the background for them is a bright space – this is when they have a chance to effectively resound in the interior.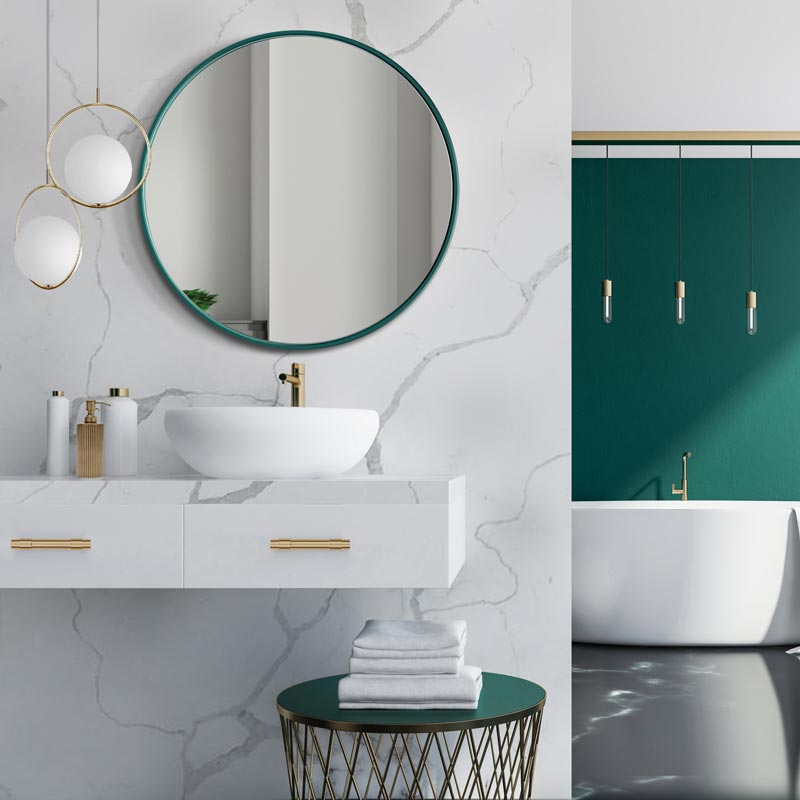 Kitchen
Bottle green also works well in the heart of every home – the kitchen. Here, too, you can let your imagination run wild and make the most of the colour. For the brave, try bottle green kitchen cabinets or worktops, bottle green wall tiles and even the floor.
A more conservative option would be to use only a few elements in bottle green – e.g. a part of the kitchen, laying a strip of green tiles over the worktop or using a glass panel in this colour. It is important that the bottle green elements harmoniously match the other elements of the interior and the other colours.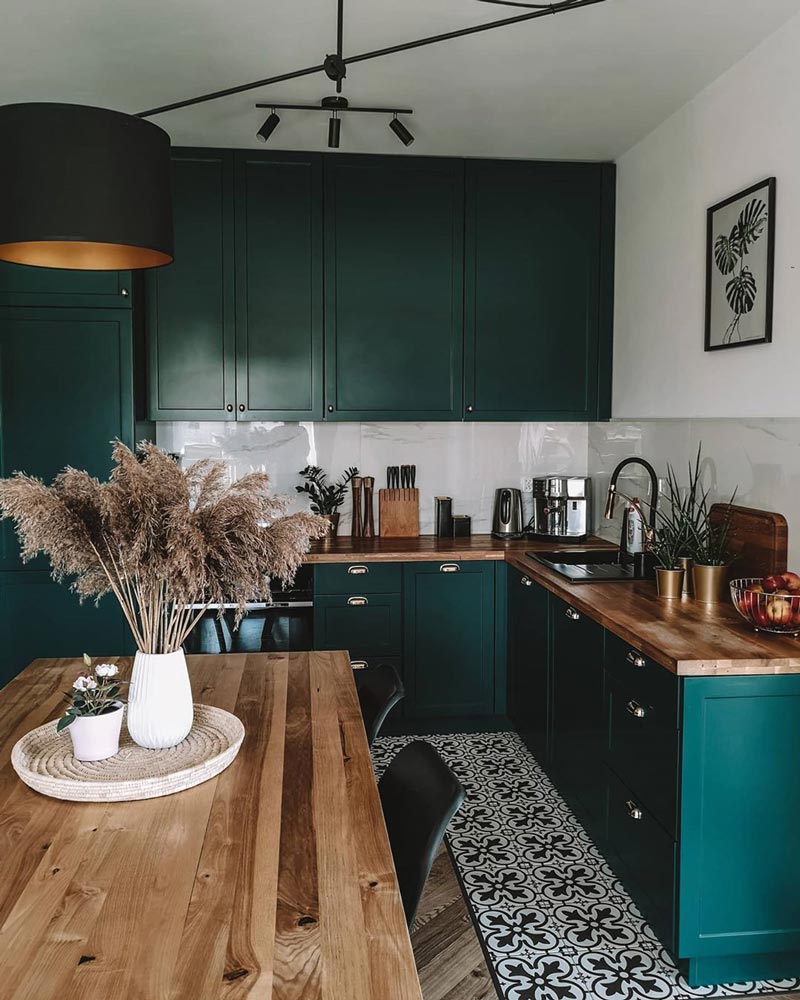 Dining room
The space where we eat can be successfully warmed up using simple but effective tricks. Upholstered chairs in bottle green, a lamp with a large lampshade in this colour hanging directly over the table, a dining mirror in a green frame or small details such as placemats or a table runner will suffice. A very elegant solution will also be bottle green tableware, which in combination with silver cutlery will give a really spectacular effect.
Bottle green has many applications in interiors, not only because of its original character. It is an extremely versatile colour, which works well not only in the living room or bedroom but also in the bathroom, kitchen or dining room. It fits many interiors in different styles – from glamour or vintage to modern and minimalist. Impressive when used solo, it also looks great when combined with many other colours and materials.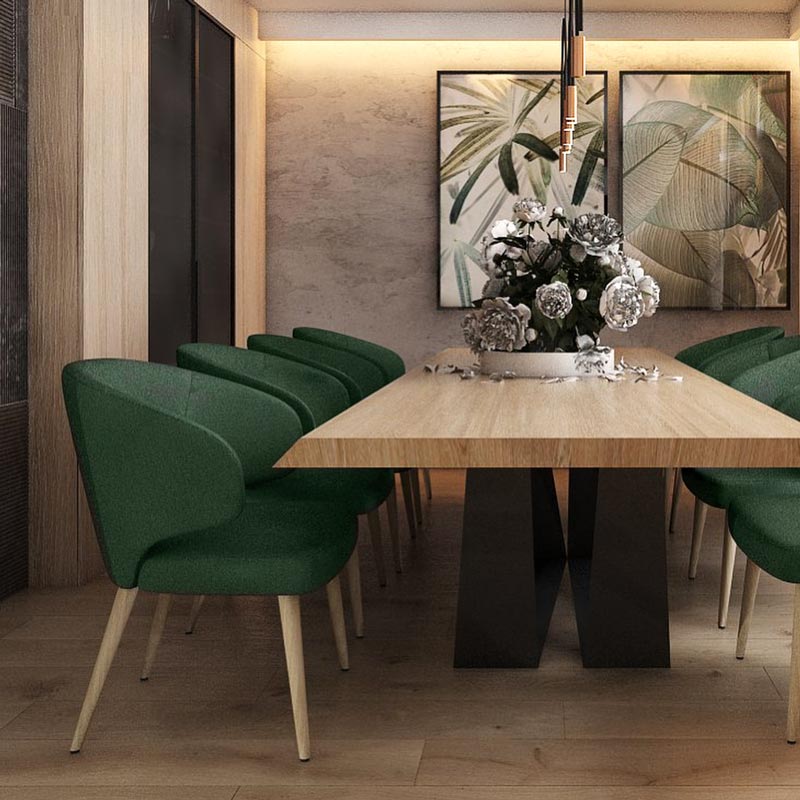 "Beauty of style and harmony and grace and good rhythm depend on simplicity."
Our apartments come with spectacular greenery, views & 100% nature – peace, tranquility, silence.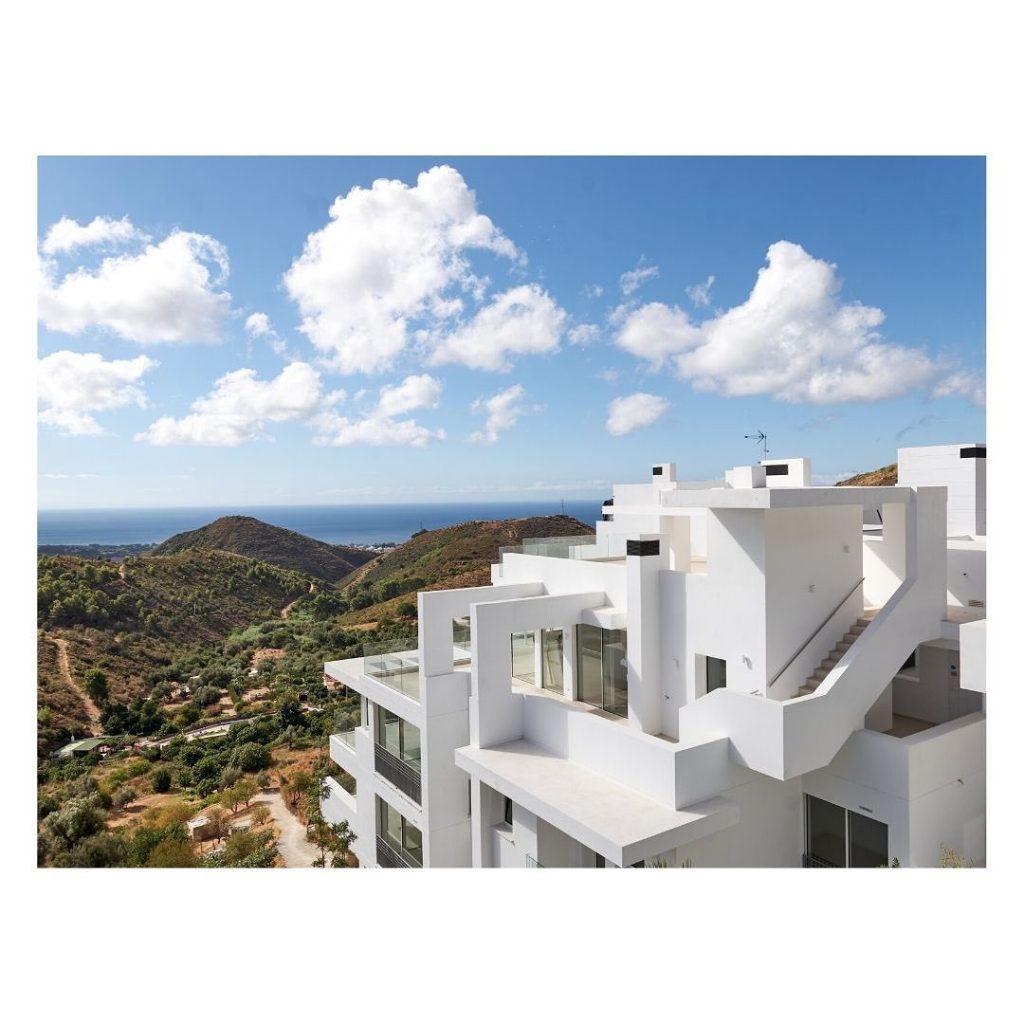 Only 1 apartment left in block 11
 In the heart of Benahavís' mountains
 Ground floor with 58m2 garden
 3 bedroom with 168m2 + 36m2 of extra space 
 Terrace 135m2 
 €670,00