The Marbella Club Golf Resort Riding Stables, host of the Spanish Show Jumping Championships, is a luxury in and of itself. This fabulous Marbella equestrian centre offers an exciting array of activities for horse riding fans, ranging from treks through the beautiful countryside to training for high-level competition.
The spacious and finely equipped modern boxes, facilities for hosting international competitions and its first-class staff provide excellent equine care and are sure to inspire our riders. It's ideal for Marbella horse riding.
The Equestrian Centre started out as small stables within the Marbella Club Golf Resort, geared for hacking and hose riding for the hotel's clients enjoying their Marbella holiday. There is an equine luxury to it all, from the 36 large boxes with Monarch Victorian fronts to the horses' golden grass, imported from Lithuania on a monthly basis.
A state of the art 4,500 square meter arena has been added to the complex, the most modern in Europe and one of only two in the whole of Spain, which contains a mixture of sand and geo-textile, ideal for the horses' hooves. The client will walk past wooden stalls that house the Resort's own horses, past Arabian, Spanish, German and French stallions. Opposite are the 13 square meter boxes used by livery clients. High-level show jumpers, dressage horses, others geared for long distance and endurance riding.
"We're very excited to have this Equestrian Centre right on our doorstep," says Anahí Oller-Westerberg, Head of Sales and Marketing of Marbella Club Hills. "People are attracted to the outdoor living experience we have here—hiking through these beautiful forests, riding across miles of trails, and now, having a top-tier facility to appeal to the strong number of equestrian enthusiasts and riders that this area attracts. This is going to open up a whole new world of adventure for our homeowners."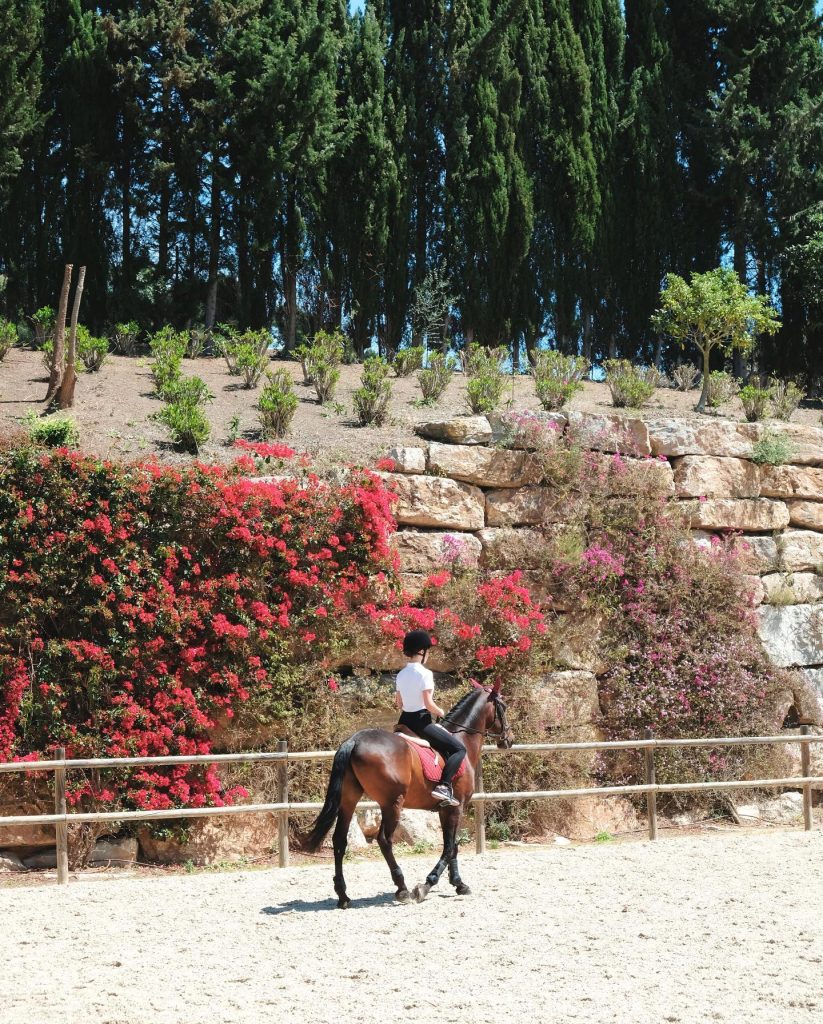 PRIVATE HORSES
Private horses depend on their owners, but hacks and tours are available to MCH community, even if they have never sat on a horse before. First, riders are checked out in the arena to make sure they are capable of managing the horse. Once the level of skill has been determined, they set off into unspoiled countryside, down the river valleys, across mountains with spectacular views of the Mediterranean and along a protected path, Cañada Real, used since medieval times.
In transforming the concept, a top-of-the-line stables was born that now plays host to important show jumping competitions and horse riding events.
For more information call +34 952 880 608 or email reserv.golf@marbellaclub.com.