The Contemporary Art Center of Malaga presents BEN SLEDSENS, a Belgian painter who exhibits in a Spanish museum for the first time.
The exhibition is curated by Fernando Francés, and it includes the last five years of Ben's artistic creation. Sixteen paintings of various formats were made between 2018 and now, some of them shown for the first time. His paintings represent fictional scenes inspired by his daily environment, a story where he uses the history of art, literature or the artist's own imagination as a reference.

Sledsens invites us all to enter a bucolic landscape – unique settings, interiors or portraits from a utopian point of view. He uses colourful compositions with floral motifs, landscapes with forests or abundant vegetation and wild animals such as birds, foxes or deer.

His paintings show a unique universe, where fantasy collides with his daily life. His works are open to our own interpretation since they allow us to recognise ourselves in the characters or in the places that the artist creates.
His work is influenced by different periods of art history such as modernism and post-impressionism, although there are references to other artists who have influenced him through the use of colour. He created reinterpretations of landscapes or the arrangement of characters in the pictorial scene such as Cézanne, Matisse, Monet, Rousseau, Bruegel the Elder or Hockney.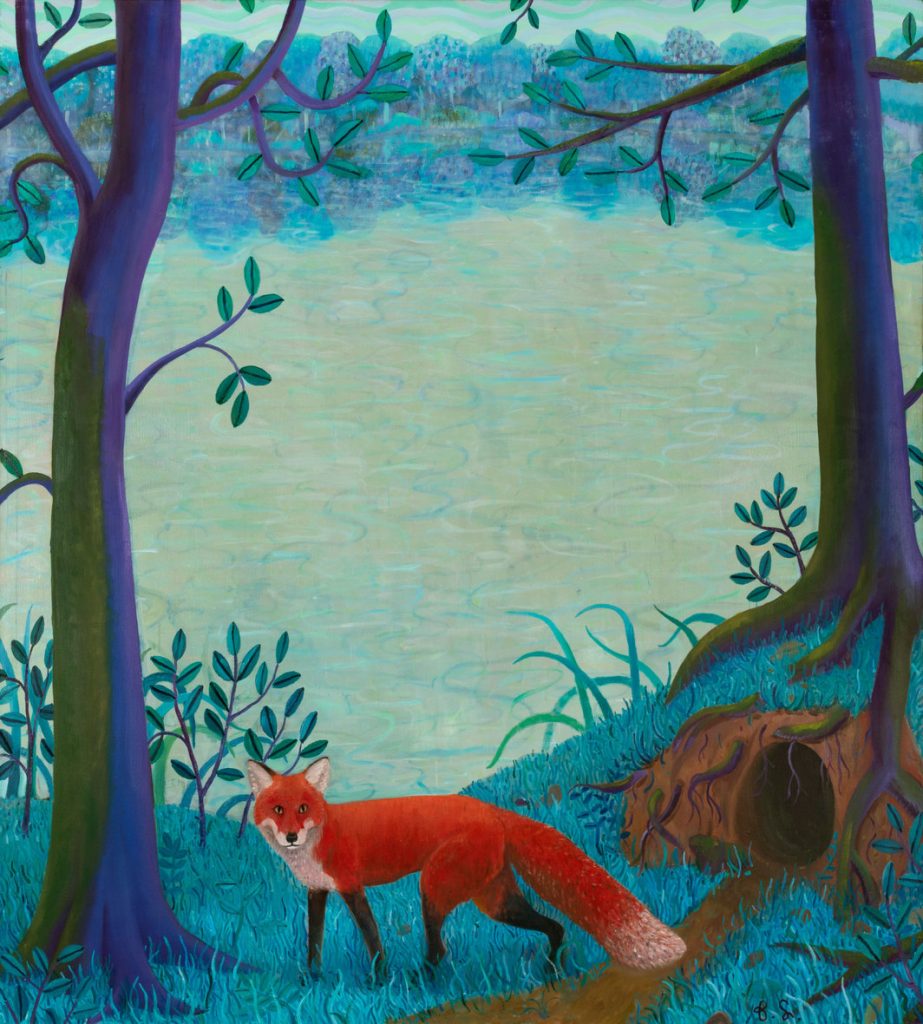 Ben works are based on sketches in which he begins to give shape to his ideas. He create his particular universes where bright colours and textures predominate due to the use of oil, acrylic and aerosol since they allow him to establish a connection between the matte background and the brightness provided by the oil. The choice of the colour range for each of his works arises from a very thoughtful process where the colours dialogue with each other, finding a harmony between red, blue, green or yellow. The use of colours very much depend on the artist's reflections of the day, the night or the seasons of the year.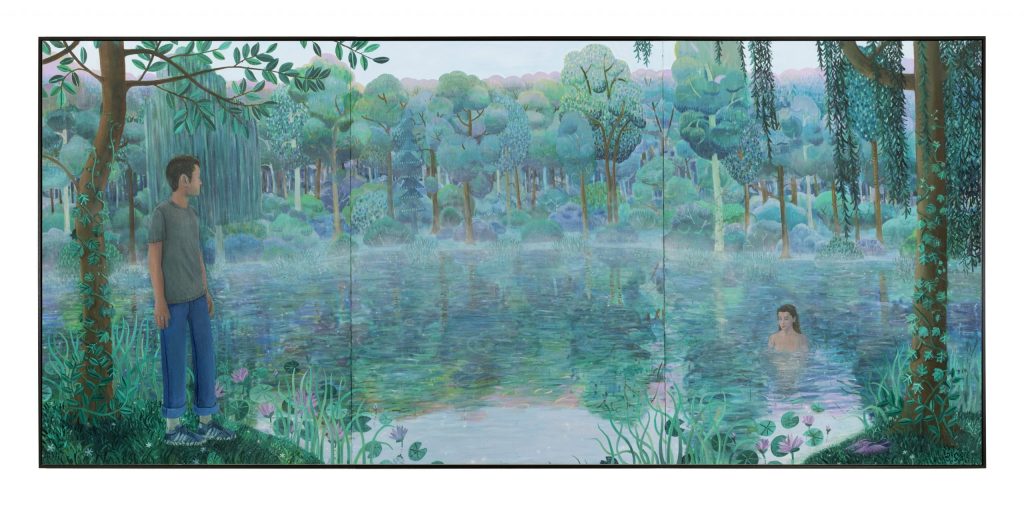 In the exhibition, you can see landscapes with a great load of forest details compared to others inhabited by wild animals or paintings showing scenarios where you can get lost represented by various characters.
The landscapes Chopped Tree (2018) or Yellow Forest (2021) stand out for their abundant vegetation and forest details in green and yellow tones, in the same way, as Tree Trunk (2018), Pink Pond Green Trees (2021) or Blue River (2020). In them, Sledsens incorporates a river or a lake into his compositions, inviting the viewer to enter a bucolic landscape.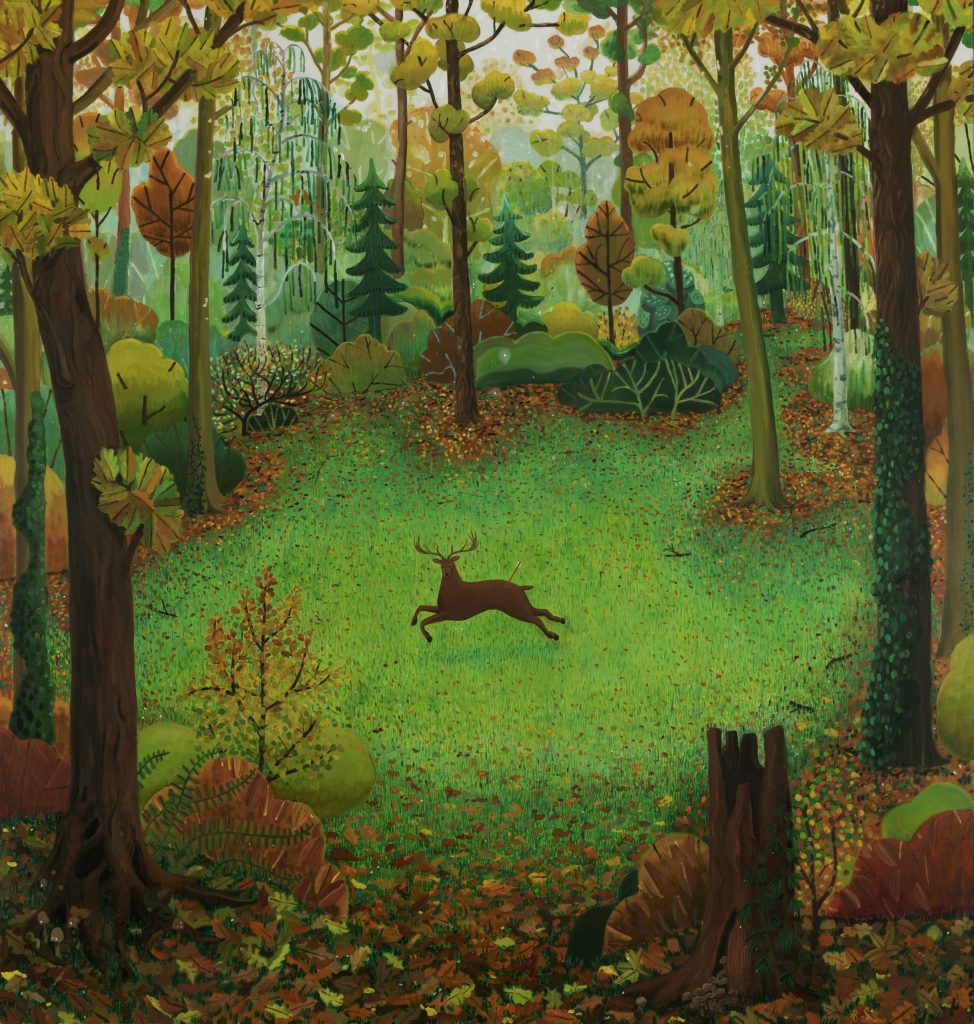 Generally, his characters are not recognizable as in Girl in the Hammock (2019) in which he shows a blonde woman in a dress lying in a hammock in the middle of the forest; Yellow Blossom (2022) a night panorama with a woman in a light blue dress sitting in the vegetation; Sitting on a Cliff's Edge (2021) a mountainous area where a man enjoys the sunset or Egg Thief (2020) in which a woman climbs a tree to steal some eggs.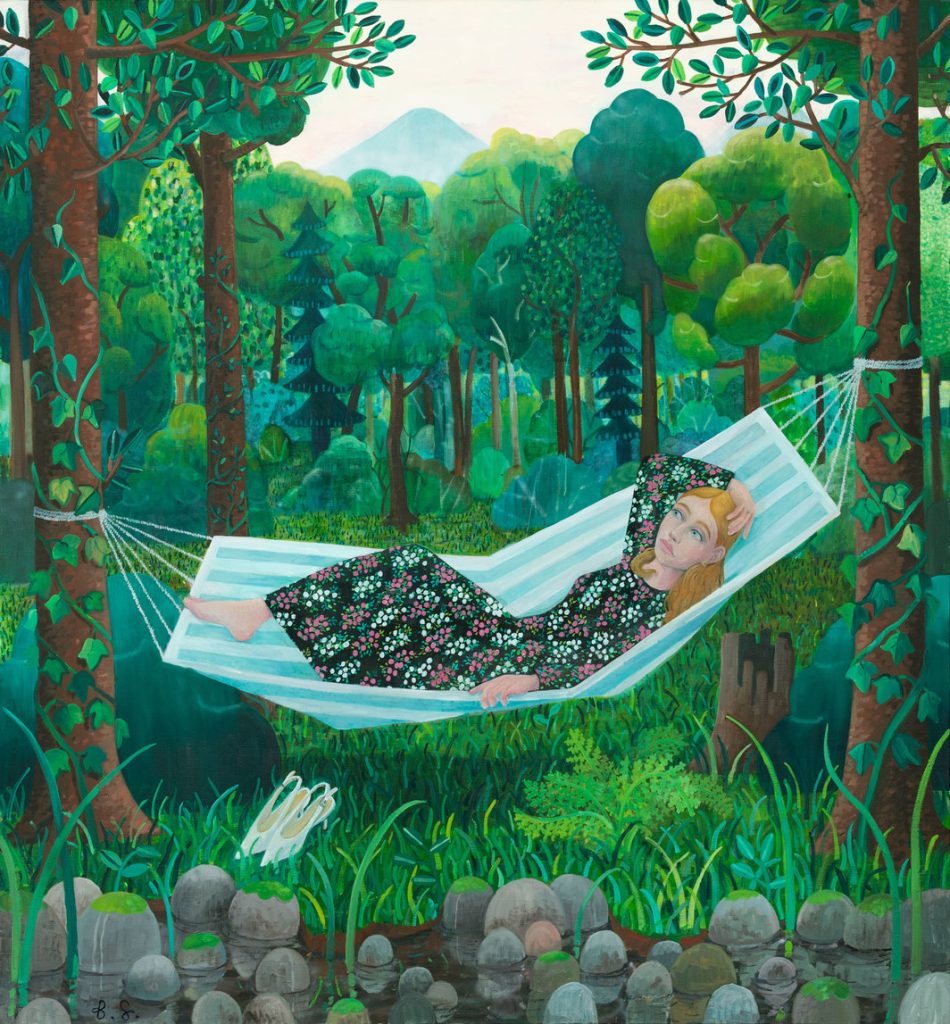 On some occasions, his works hide brushstrokes of autobiographical overtones, resorting to characters such as Wanderer with Bird (2022), a landscape with abundant vegetation of tall trees in reddish tones starring a boy, probably Ben Sledsens himself, dressed in casual clothes and a bundle on the shoulder next to a white bird.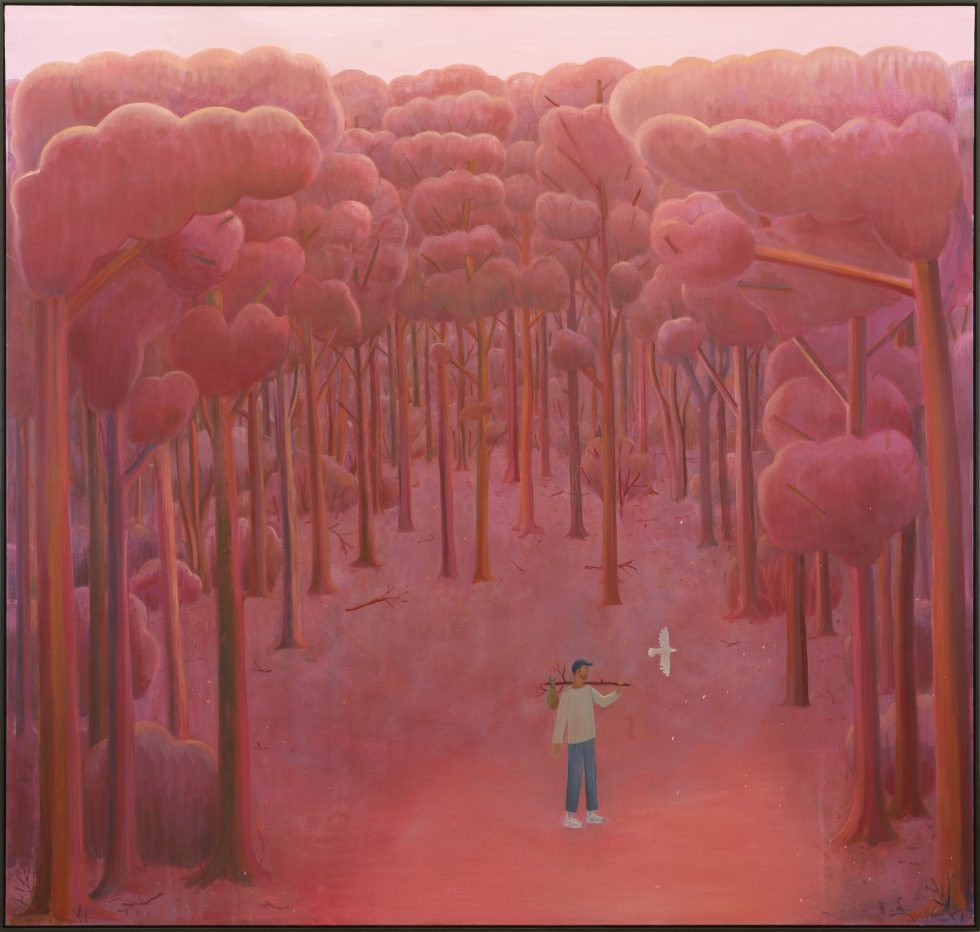 It is worth noting the presence of the female figure, in which, his partner and fashion designer, Charlotte De Geyter, served as his model. She's also designed the dresses for this parcticular occasion, and can be seen in Girl in the Blue Room (2000) or Yellow Dress, Red Ball (2020) starring a woman in the centre of the room wearing a dress with various patterns and styles.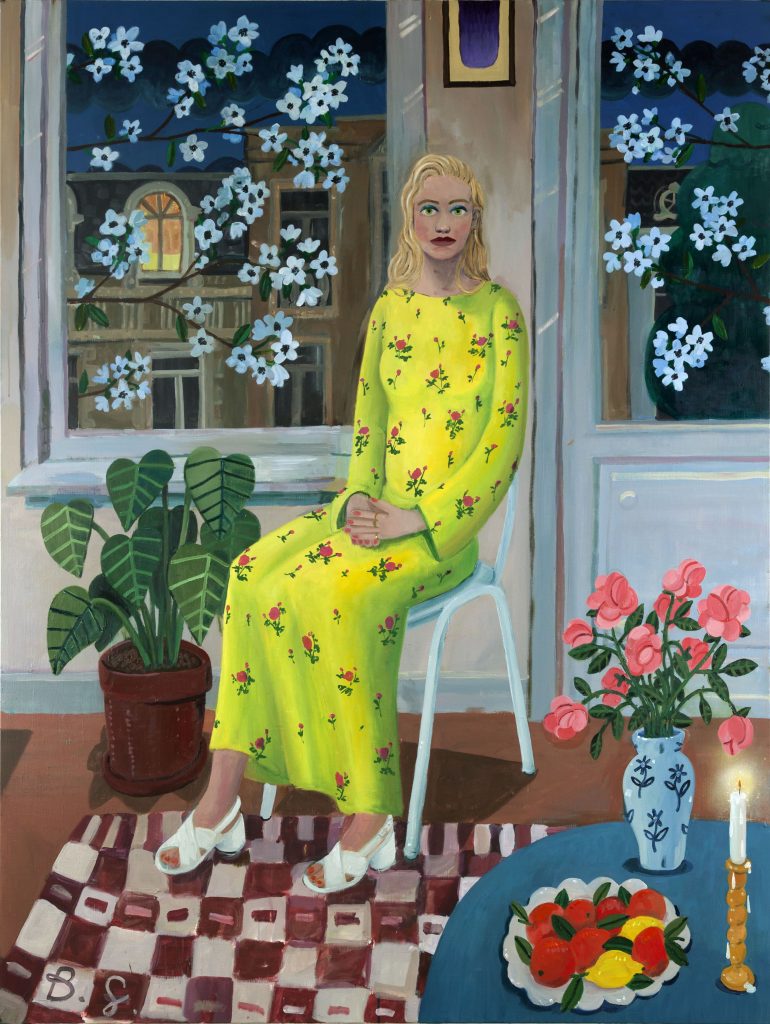 Popular myths or legends are another of the recurring themes in Sledsens' work through the use of animals such as in Hunted Deer (2020-2021) or Wolf in the Deep Forest (2021) starring a deer and a fox in the central part of the canvas surrounded by vegetation on both sides in shades of green and brown.
The work Morning Encounter (2019-2020) is the one with the largest dimension in the exhibition, made up of three panels 5 meters wide by 2 meters high, which shows a landscape surrounded by vegetation with a lake in which the environment is reflected, starring a boy in casual clothing looking towards the lake where there is a naked woman bathing.