For a lot of people, the idea of a perfect life doesn't just involve spending time in a hammock or on the beach – it can include living life to its full potential, with exciting and unique experiences. Benahavís is a paradise for outdoor enthusiasts. No matter your age, you can find something thrilling to do here.
Not only that, Benahavís outdoor life is a perfect way to find inspiration, take in the beauty of the area and relax from the hustle and bustle of everyday life. Taking some time to connect with nature has a plethora of benefits for your mental and emotional well-being.
Whether you want to satisfy your craving for adventure and excitement, or immerse yourself in a peaceful environment that can create a powerful, positive impact on your life, Benahavís is where you can have it all.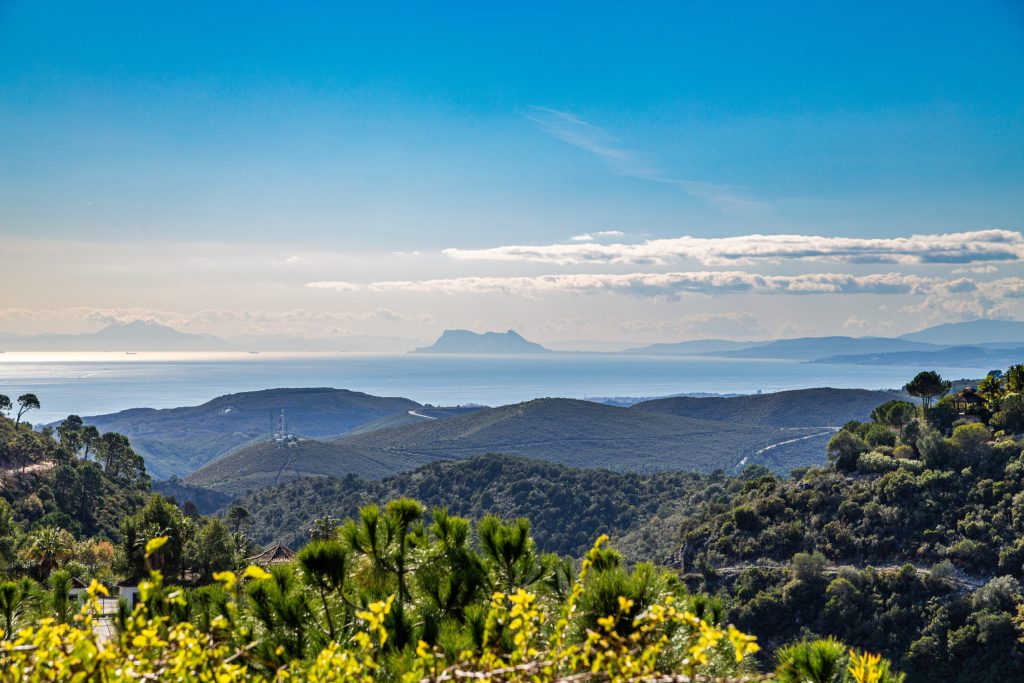 Benahavís – plentiful outdoor activities to choose from
Benahavís has become a destination that offers a diverse and distinctive lifestyle, with golf playing being the most popular activity in the area.
The climate, infrastructure, discretion and tranquillity of the area have made Benahavís an international reference for numerous professional golf courses.
With 320 sunny days per year, golf is played all year round under blue skies in Benahavis. It is therefore not unusual to play in polo shirts in the middle of "winter". The golf courses in Benahavis – which are all spectacular – were all designed by renowned golf architects, such as Robert Trent Jones or great champions like Severiano Ballesteros or Jack Nicklaus. Courses are all rather hilly, and one obliges you to go round with a buggy.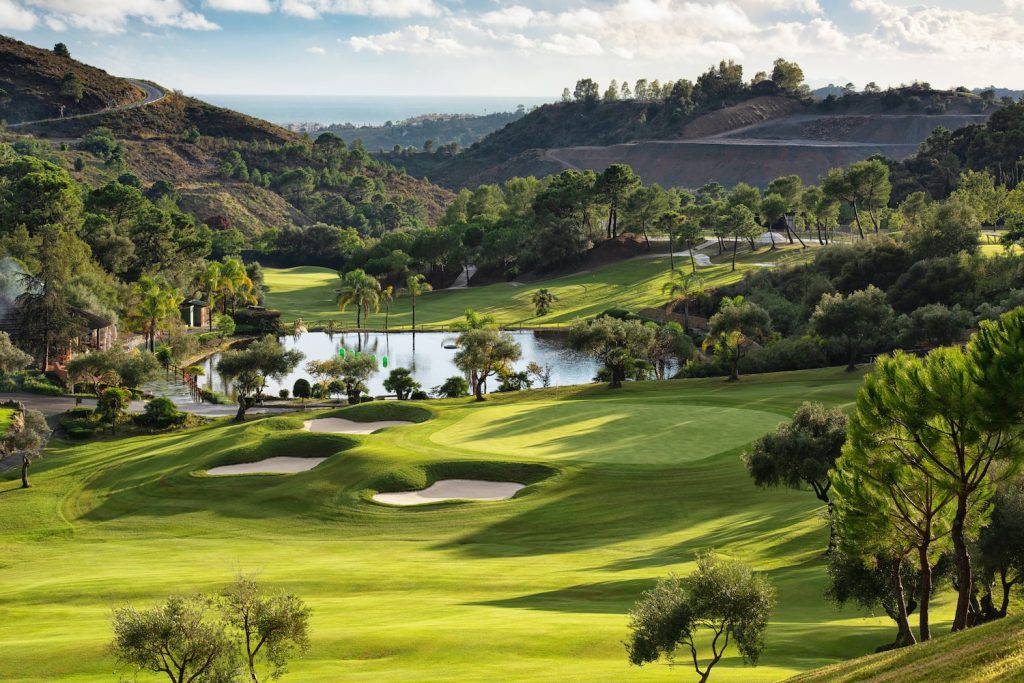 Copyright: @Marbella Club Golf Resort
The Marbella Club Hotel Golf Resort is a world-class Marbella golf course in Costa del Sol that exceeds even the highest expectations. With a total length of 6,247m, the golf course is enhanced by carefully contoured fairways, beautiful waterfalls, lakes and strategically placed bunkers, as well as undulating and protected greens, maintained to perfection.
However, aside from golf, you'll find equally fun, interesting and unique outdoor activities that can be shared with family and friends. Benahavís is the perfect place to have a great time. There are countless activities one can do to soak up the stunning beauty of nature. From exploring its scenic views to simply unwinding in blissful serenity, you will never run out of things to do.
The distinction of Benahavís living lies in being always in contact with nature.
Horse riding and equestrian routes
Andalusia has an enormous equestrian tradition and Benahavís is a clear example of this passion. Benahavís is an ideal location for those who have a profound love for horses or are just starting out on their equestrian journey. Benahavís has a variety of routes for the entire family to take advantage of and admire the stunning panoramic views. Riding schools which feature pony clubs are an amazing experience for kids. They provide the opportunity to get close to nature and create a lifetime of memories.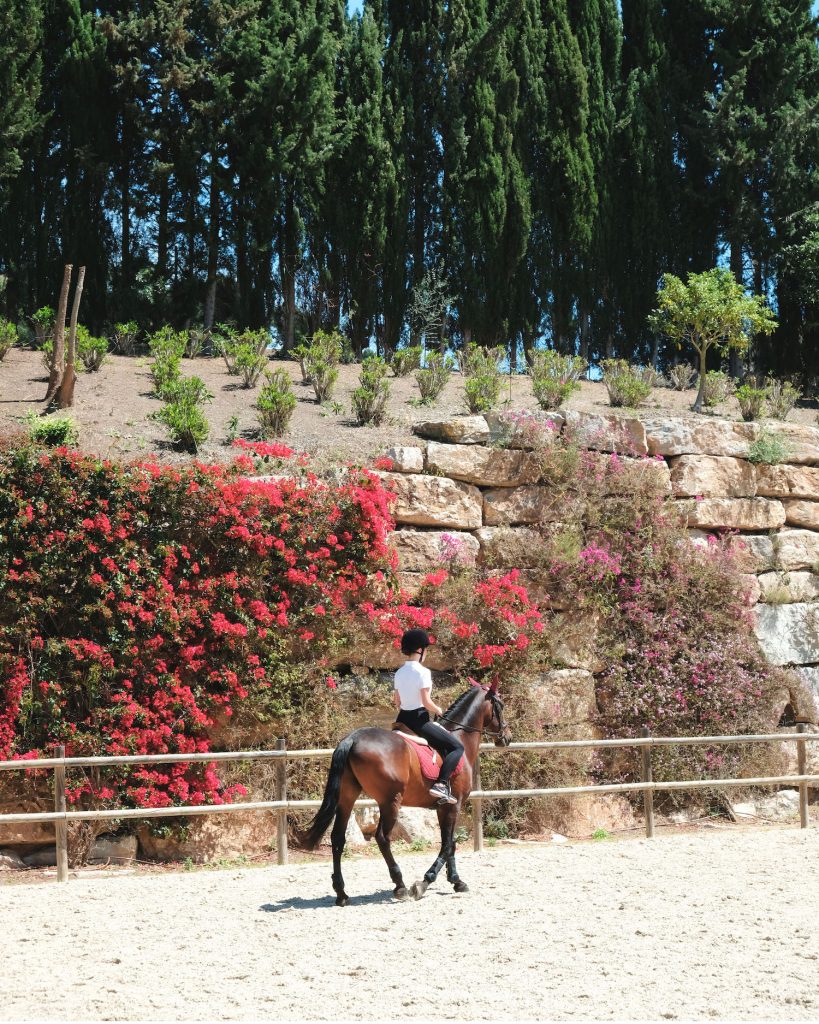 Copyright: @Marbella Club Golf Resort
Our local Marbella Club Equestrian Centre offers horse riding, horse treks, dressage lessons, and competition-level training. You can tour their pristine stables, home to Arabian, Spanish, German and French horses, and take you on expansive mountain trails through pine forests, suited to all levels. The two modern riding arenas host championships including Spain's National Show Jumping.
Canyoning
Canyoning is an exhilarating experience which takes place in deep canyons and rivers. It involves overcoming various obstacles on the route, from walking to swimming to climbing – making it a great adventure sport for nature enthusiasts.
Benahavís is a great destination for adventure-seekers and the perfect spot for those looking to experience some thrilling thrills. Canyoning is an adventure activity in which you travel through canyons located in the foothills of the mountains of Benahavis, through fascinating and unspoiled beauty. Benahavis Canyons are made up of a series of spectacular waterfalls, crystal clear pools and beautiful rock passages that are cut and sculpted by water over millions of years. You will enjoy some hill and boulder walking and you will get wet. It is suitable for all (even kids as young as seven or eight). The activity is led by professional and experienced instructors that guarantee safety and fun. Adrenaline-fuelled jumps, slides, swims, and even a rappel activity make up the half-day session.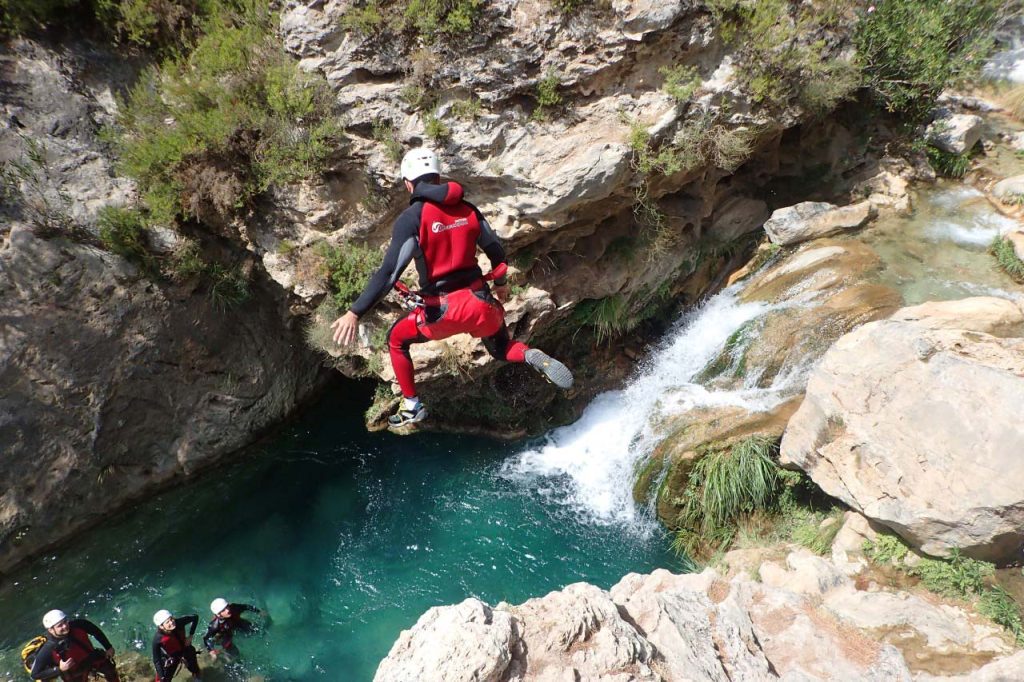 Copyright: @Villamoana.com
Canyoning Benahavis will organize your entire excursion, providing you with all the necessary equipment (including a neoprene suit, and helmet) – making it ideal even for first-timers. Combine picturesque scenery with the practical experience of canyoning Take home a report picture as a souvenir of your Guadalmina canyon trip.
Hiking
Exploring new places, enjoying nature, and exercising outdoors are the great values of hiking—a healthy and fun activity that can be practised regardless of age, at least in Benahavís.
Benahavis holds a significant place in its orographic features and is an amazing area to explore, walking through valleys, steep ravines, or paths between Mediterranean forests at the foot of one of the most beautiful white villages of Andalucia.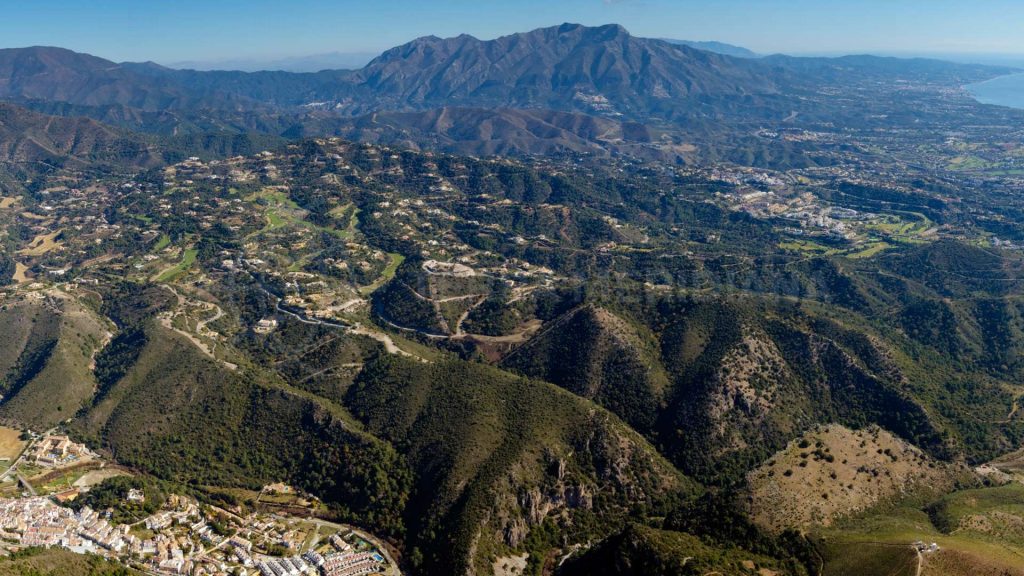 PATH OF THE IRRIGATION DITCHES OF THE GUADALMINA RIVER
4,32 km
Difficulty: easy
The path of the Acequias offers an easy, circular route, suitable for the whole family. More than a millennium ago, the Arabs diverted a part of the Guadalmina river for irrigation purposes. This enabled them to use the water for cultivating their orchards. This irrigation channel has been transformed into a hiking trail and is now open to hikers. On this tour, we will follow the path of the water, and we will cross the Cañón de las Angosturas through a beautiful wooden bridge. An enjoyable and informative experience awaits you along the secure, conditioned irrigation ditch. During the walk, you'll come across picnic tables for a refreshment break as well as information panels about different plants and animals in the area.
The beginning of the route is in the Explanada de la Ermita, 2km from Benahavís. Every Sunday, you can enjoy a market devoted to antiques in this area. The route begins about 400 meters before the bridge of the Cañón de las Angosturas.
CASTLE OF MONTEMAYOR
6,5 km
Difficulty: low
This particular trail that starts in Benahavís takes you to the apex of Montemayor peak, where you'll find the ancient Montemayor Castle. From this location, one can have an extraordinary view of over 100 km of coastline, all the way down to the African coast. This route is a mix of looping and going in a straight line. The route starts from the town centre and the last stretch runs along a marked path with a steep slope that leads to the castle. It is a route for the whole family, and we will enjoy one of the best views of the western Costa del Sol and the surrounding mountains. On clear days, we can see the Strait of Gibraltar and the African coast.
PATH OF THE DRAGONFLIES OF THE GUADALMINA-CAÑADA OF JUAN MINÁ
3,5 km
Difficulty: low
The Path of the Dragonflies of the Guadalmina is an easy, circular route, suitable for the whole family. We start from the town of Benahavís, we will walk part of the route along the banks of the Guadalmina to reach the Azud del Guadalmina. From there we will go completely around the Guadalmina Dam to return to the starting point by the Camino del Molino.
During the tour, we will see information panels about the world of dragonflies and the local flora.
GUADALMINA RIVER NARROWS (WATER ROUTE)
4,5 km
Difficulty: Moderate
Embark on your journey from Benahavís town and follow the downhill waterway. First, you will arrive at the Poza de las Mozas, of great depth and fun to jump from one of the large rocks that surround it, three meters high. It is possible to access the pool area through a natural water slide located in the rocks. To make your descent easier, you can use a rope that is tied at the top (we recommended bringing one for safety).
Going through the gorge, you'll notice how the sun's rays barely make their way in. You come across small ponds, at times there are waterfalls and large pools with no entry point. The stones in the area can be quite slippery so you must tread carefully to avoid falling. As weekends tend to be the busiest time due to their popularity, it's best to do this route during the week for a more enjoyable experience.
Caution: Make sure to wear the right type of footwear and if possible, a helmet for extra protection. Knowing how to swim is highly recommended, as some pools may be too deep to stand in. Additionally, there are areas where rock slides occur. It's advisable to bring along watertight bags for our belongings and wear a neoprene suit since the water is usually cold.
Cycling
Benahavis is a great destination for cyclists too. With its stunning mountain views, winding roads and challenging terrain, Benahavis offers something for every cyclist. Whether you are looking for an easy ride through the countryside or a more challenging route up the mountains, Benahavis has it all. With its varied terrain and excellent cycling infrastructure, Benahavis is the perfect destination to explore on two wheels.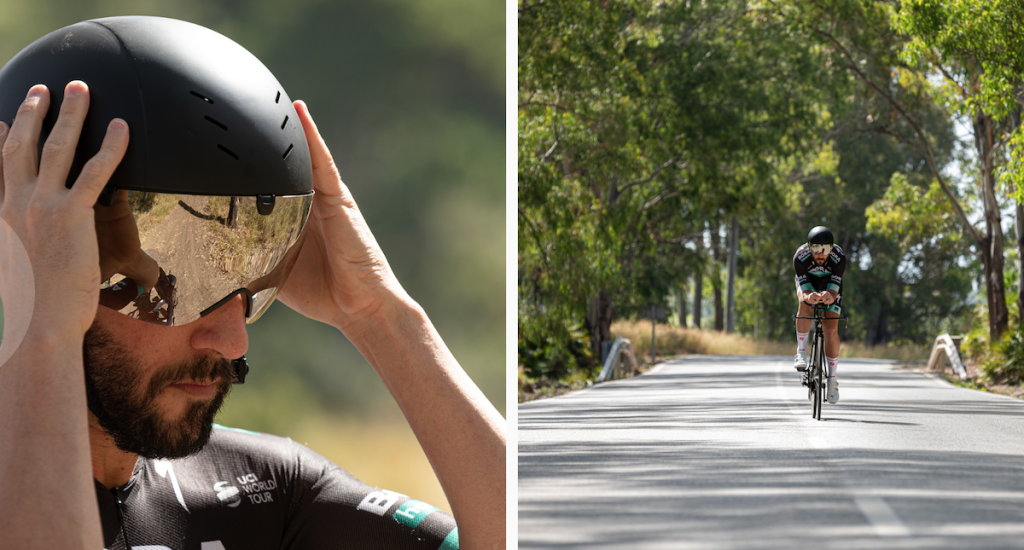 Copyright: @Turismobenahavis.org
Head to Kamoot for top 15 bike rides and cycling routes in Benahavís.